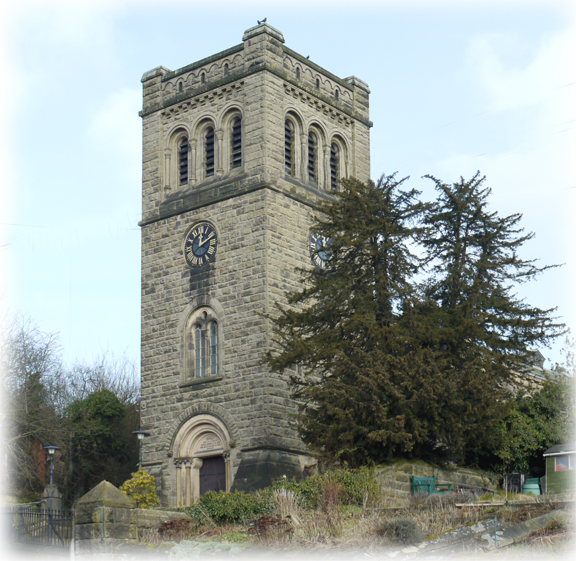 St John the Baptist's Church, Ashbourne opened 28th May 1871 and was styled "Ashborne Free Church of England". It was built at a cost of about £8,000 paid for by Francis Wright, Esq. of Osmaston.
It would seem that the period 1850 to 1870 was rather a fractious time for the incumbent of St Oswald's. The Rev. John Errington was appointed in 1850. He had two problems with his parishioners. He want to end the system of private pews. Certain pews in the church were property associated with a particular house in town. Rev Errington wanted to reduce this but he was also very high church and wanted to introduce cathedral style services complete with religious music and choir. Francis Wright was low church and very wealthy. He made his money from steel and coal and built St Pancras station. He resolved his dispute with Rev Errington by building his own church, St John the Baptist. Here all the seating was free.
The church is constructed of coursed pitched faced local sandstone from Mayfield and designed in the Romanesque revival style with a semi-circular headed window and door openings. It is a building consisting of an apsidal chapel, nave, aisles, and a western tower, forming the entrance, and containing a clock and one bell. Joseph Wright's business background with Butterley steel explains why the church has cast iron pillars in the interior.
Over the doorway, you will find the words from Mathew 18:20: "Where two or three are gathered together in my name, there I am in the midst of them". The east window, a WW1 memorial, is a fine example of the work of AJ Davies from the Birmingham School of Art.
After Wright's death, the Church ran into financial difficulties and in 1883 it joined the established church. It is now part of the ministry of the incumbent of St Oswald's.
To contact the church, please Enquiry, St John's.