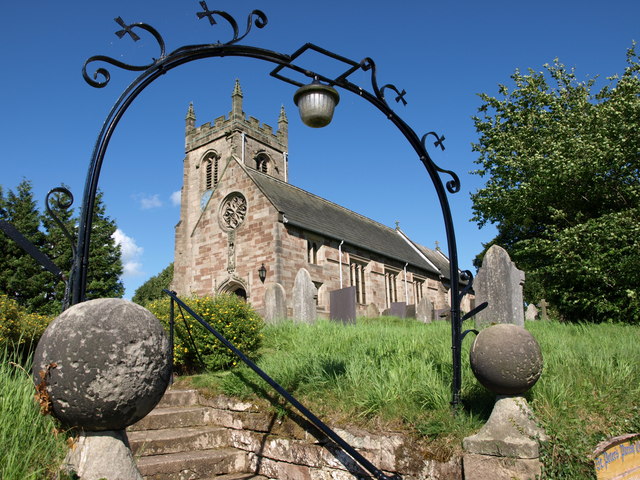 Snelston is in an attractive position, on rising ground at the north-east corner of a picturesque village, close to the site of the now demolished Snelston hall. The layout is unusual: the oldest surviving part of the church, the tower, battlemented and pinnacled, of pink Hollington sandstone, is at the northwest corner of the church, sharing the visitors first view of the west front of the nave. This is a rebuilding, and gives the small church an air of a miniature cathedral, with its west door under a crocketed ogee arch, above this the figure of the patron saint with keys, and above this again a rose window.
The inside is no less attractive. It consists of nave, north aisle (which opens into the base the tower and accommodates a chapel at its east end) and chancel. The pale stone, the cream-painted boarded ceiling, and the clear glass in the perpendicular windows helped to make the nave glow with light on a sunny afternoon. The chancel by deliberate contrast is dark. The walls are stencilled in blue and gold, gilded bosses and Saint Peters keys decorate the ceilings, while dim coloured glass fills the windows. An ancient oak throne sits here, linenfold panelling on its base, intricate tracery on its back. The church was visited during the 1870s by the antiquarian J Charles Cox who wrote the history of Derbyshire churches entitled Notes on the churches of Derbyshire. During that visit he saw a lead font which he dated to circa 1300.
The restoration of this church has been done over a century or so by members of the Harrison family, notably by Juliana Bowyer (nee Harrison) in 1907, and later by the Stanton family. Their tasteful additions, typical of the more restrained restoration of the late 19th century, include the west gallery, bright with coats of arms, which houses the organ, the oak rood screen and pulpit, the English altar in the side Chapel, and the Kempe glass in the west tower window with its rich reds. Here, under the tower arch can be seen, etched into the stone, a prompt for the bell ringer's - various permutations of one, two and three - now with no practical use since, for reasons of safety, only one of the bells can be rung.
Getting married at St Peters
We pay great care and attention to weddings at St Peter's: we believe that a church wedding is the very best way to begin your new life together. We will design your service with you, and do our very best to ensure that your special day is memorable, with that spiritual dimension that only a church can provide. We are here to help and support you.
For more information - St Peter's contacts: St Peter's Snelston enquiry